In the last post in our Build It vs. Buy It blog series, we discussed some of the complications attorneys encounter in trying to handle their clients' healthcare liens on their own. Today, we're sharing a case study from our eBook that's tells how one attorney eased his anxiety after outsourcing his firm's lien resolution work to GRG.
For one personal injury attorney, the decision to become a GRG Compliance Program client could not have been easier. With four associates, 50 staff members, and an annual caseload of approximately 300 cases, he found himself overwhelmed one day while reading about the compliance obligations for Medicare liens, and the penalties attorneys could face in failing to properly address those issues. How could he ensure that his clients were getting the needed level of service, and that Medicare's recovery rights were properly addressed in each and every case?
The answer came when he connected with a GRG Client Development Manager. The attorney was familiar with GRG's work in the mass tort world and wanted to learn how GRG could help him better serve his clients in individual (single event) cases. After hearing about what GRG's Compliance Program offered, the attorney knew he had found the solution for his clients and his practice overall.
First, however, he did his homework. The attorney sat down with GRG and analyzed the outsourcing agreement in detail. He reviewed the fee schedule, fee terms and specific language in the agreement. The attorney gave GRG accurate estimates of his anticipated annual case volume, which enabled his dedicated GRG client service team to properly plan for the work.
To get started, he instructed his staff to pull all the firm's active cases involving Medicare beneficiaries. He contacted all of his clients with potential Medicare claims and obtained each one's consent to outsource lien resolution work to GRG. His staff sent GRG all the information needed, including signed consent and proof of representation forms.
Today, GRG's client education form and healthcare lien authorizations are included in the firm's new client sign-up package for their clients' review and signature. GRG seamlessly takes on each new case involving a Medicare beneficiary.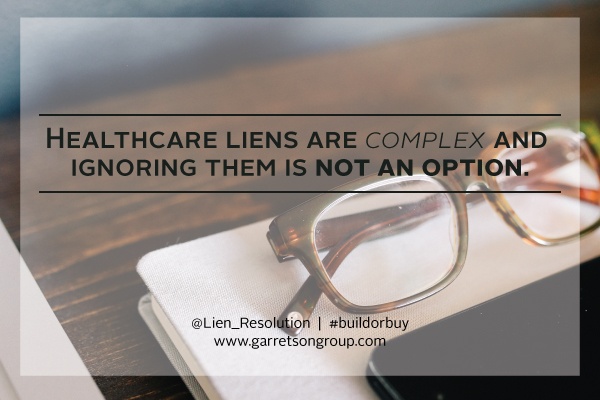 At the end of the day, the attorney can rest easy knowing that each one of his cases is stamped with GRG's healthcare compliance seal of approval and his clients are better served because of it. He no longer worries about missing an obligation and jeopardizing his clients' health care benefits.