Outsourcing Healthcare Lien Resolution & Medicare Set Aside (MSA) Administration Could be the Best Decision you Make for your Clients and your Firm

When looking back at the reasons why you decided to go to law school, the opportunity to deal with healthcare liens was undoubtedly not on your list.
Yet, attorneys and legal staff across the country are dedicating hours each week to sorting through healthcare liens and reimbursement claims – time that could otherwise be spent focused directly on client service and core case management tasks at their firms. Attorneys may find themselves devoting almost as much time trying to close a case as they did litigating and/or negotiating it in the first place – especially if they wait until a case settles to start dealing with a claimant's healthcare liens.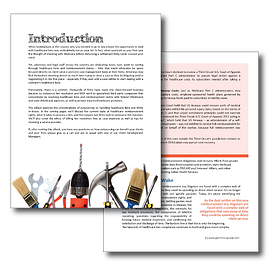 A clearly-defined strategy for resolving healthcare liens/reimbursement claims and addressing the question of whether a MSA should be considered in each of your cases is absolutely necessary to protect your clients and ensure complete compliance. Firms may choose to dedicate the time, money and resources to "build" an internal system.
Alternatively, they may choose to "buy" a solution – in other words, outsource this work to an experienced service provider. Thousands of firms have made the client-focused business decision to outsource lien resolution and MSA work to specialized third party companies that concentrate on resolving healthcare liens and reimbursement claims with federal (Medicare) and state (Medicaid) agencies, as well as private insurers/healthcare providers.
This eBook explores the considerations of outsourcing vs. handling healthcare liens and MSAs in-house. We'll discuss the current state of healthcare reimbursement rights, what it takes to process a lien, and the reasons law firms look to outsource this function. We'll also cover the ethics of billing lien resolution fees as case expenses as well as tips for choosing a service provider.