7 TIPS TO MAKE YOUR MASS TORTS PRACTICE MORE EFFICIENT
Your law firm faces many important challenges. Two of the biggest: continually developing an inventory of solid cases and growing your practice. The first requires a lot of resources, making it difficult to stay focused on the second. This means you have to balance near-term success with the long-term health of your firm.
But what if you could take the data gleaned from case development and put it to work for your firm? Are you gathering and managing information in a way that helps you understand why some cases are more successful, and where they come from? The facts you get from clients can do more than just help you prove up cases; if you obtain the most effective information and analyze it in detail, you can use the resulting knowledge to enhance your practice and achieve stronger results going forward.

In this ebook, you'll learn: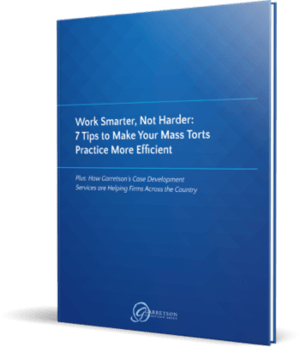 The data points you may be missing when developing cases
The information you can get from analyzing case data in different ways, and how that knowledge can be put to work for your firm
The different types of medical records, and how they can help you develop personal injury cases
How outsourcing can help you build stronger cases, freeing your internal resources to focus on equally important matters (like client and case management)