In the last 15 years we can't begin to quantify how many times attorneys have told us how difficult it is to nearly reach the proverbial finish line in a client's case only to have the lien resolution process prolong it. But the time-savings that can be realized in outsourcing your firm's lien and MSA work only hints at the strategic advantages of what an outsourcing arrangement can deliver.
Outsourcing is most importantly about achieving outcomes for clients that exceed what firms can accomplish on their own. The client's interests are undoubtedly better served when attorneys can focus on their cases while engaging a specialized service provider to focus on resolving healthcare liens and determining whether a MSA is required. Outsourcing lien and MSA work ensures that attorneys are not burdened with mastering the difficult and ever-changing rules of healthcare compliance. It also helps to minimize professional liability in this complex area.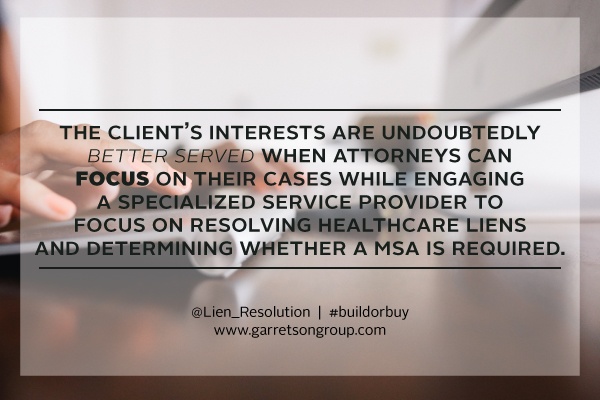 Below are just three of the greatest advantages to outsourcing healthcare lien and MSA work. To read the complete list, download our eBook:
Manage time, increase focus and efficiency. Outsourcing lien and MSA work can be a significant positive change agent for your firm, allowing you to directly aim your resources at client-focused activities. Moreover, outsourcing allows you to increase efficiency by completing tasks within your specific repertoire, rather than trying to master new disciplines that may be of minimal use in the future. Conversely, for attorneys who earn hourly fees, clients should not be billed for time their counsel spent learning about performing lien and MSA work. Focusing on core competencies results in more productivity and efficient case resolution. Bottom line – your clients benefit from expertise in every aspect of their cases.
Improve quality and access subject matter experts. Outsourcing these specialized tasks ensures that people well-versed in handling healthcare liens and MSAs are performing the work. Backed by systems and processes specifically engineered to address these issues, these specialists have in-depth knowledge in these areas. When complex or unique issues arise in a case, the hiring attorney may not possess the required skill set to efficiently conduct the work. While the hiring attorney could research and expend resources learning the ins and outs of lien resolution, clients hire attorneys based on their overall expertise. Consequently, those clients do not expect their cases to sit on hold while their attorneys get up to speed on the laws and regulations governing lien resolution.
Protect client benefits and ensure compliance. Relying on experts helps ensure that your clients' future health care benefits are protected. Attorneys who dabble in lien resolution need to ensure 100% compliance with the process in order to preserve their clients' future eligibility for benefits from programs like Medicaid and Medicare. Outsourcing lien resolution and MSA work helps ensure compliance with all applicable laws and regulations, because your cases are placed in the hands of experts.